Whitewater rafting in Ukraine is an outdoor activity using a special inflatable boats (rafts, catamarans and kayaks) on a mountain river with rapids. The very concept of whitewater comes from the words combination White Water. Among the extreme community, the term whitewater means extreme rafting in Ukraine.
Why does the water become white? Because of the rapids, the rapid flow flushes and booms, taking with them kayaks, rafts and catamarans.
Where does the water go white? The heaviest whitewater is in early spring on the rapids of Chorny Cheremosh, Prut, Mizunka and Opir. In the summer, only heavy rains make these rivers extreme. Otherwise, for complicated rafting trips we never take beginners, so for the first time you can start rafting on the class2 Stryi river)
0.5
1
1.5
2
2.5
3
3.5
4
4.5
5
5.00

(Votes:

1

)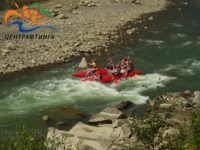 In the summer the
water in the Chorny Cheremosh falls significantly, and rafting turns into trekking – pulling the craft over the stones. This route makes rafting possible all summer long and, as you can see from the photo, the rapids below are no
less interesting than Huk and Huchok.