Rafting on the Opir, 30 km
0.5
1
1.5
2
2.5
3
3.5
4
4.5
5
5.00

(Votes:

1

)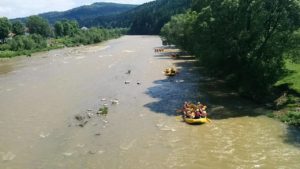 Opir is the most turbulent mountain river where you can arrange rafting in Lviv Region. In high water season, the grade of difficulty of the river goes far beyond class 3, and the spring flood keeps the moon.
Rafting in the Carpathians along the river Opir is the hardest navigation that tourists without previous experience are allowed for. In high water season, rafting starts from Hrebeniv village, which is just a bit down from the Svyatoslav Hotel where the Oryava and Opir rivers meet. In low water season, we start off in Skole, the landmark - the bridge to the Hutsulka resort.
Duration of the event: 8:00-20:00
Length of the route: up to 25 km
Terms of participation: children of 8 and over, a change of clothes
Cost of participation: from 600 UAH per person including support, insurance, guides' fees, hot meal, lunch camp, shared first-aid kit
Menu: hunter's sausage, bread, ketchup or Cossack kulish, tea
Additional services: transfer (200), wetsuit (150), a quest on the route (150), shashlik (125), mulled wine (30), mushroom soup (75), live music, fireworks, etc.