Rafting.ua  is a team of whitewater rafting professionals, which provides an opportunity for tourists to dive safely into delight, adrenaline and victory on the rapidly rivers of Ukraine, Romania, Georgia and other countries.
Our mission  is to create positive emotions and to spread information about the benefits of outdoor extreme tourism: rafting, hiking, caving, rock climbing.
 
Our goal  is to create the safest and at the same time unforgettable conditions for active recreation on the water, in the mountains, in caves.
 
Our basic principles are responsibility for the fulfillment of orders, customer focus in negotiations, inviolability in safety items.
 
Our main value  is a team of positive guides, which have been developed over the years - professionals of white waters, on whom you can always rely.
0.5
1
1.5
2
2.5
3
3.5
4
4.5
5
5.00

(Votes:

1

)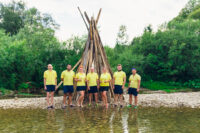 Meet our team of guides. We are all very different, but the whitewater united us into one big "weekend family". Safety is the most important issue for us at every rafting tour or other event, so every year we improve our rescue and assistance skills on the water.