Outdoors activity is the lifestyle of a modern successful person. It's fancy, extreme and mindful.
Overcome your fear with extreme rafting by Rafting Center on the mountain Carpathian River. Here rapids will cover you with a water.
The claustrophobia can be tricked down by Rafting Center in the Optimistic Cave. Here crystals sparkle from the light of your headlamp.
To develop communication and teamwork skills you should try a several days calm river rafting along the Dniester by Rafting Center. Here synchronous work with paddles provides following the right course.
You need to rearrange yourself while hiking in the Carpathians with Rafting Center when a backpack becomes super-heavy just in a few minutes before the mountain peak.
To overcome the height of the heights will help the 300-meter zip-line crossing from the rock through the river when your speed is up to 100 km/h.
To cure the cold phobia with ease you can sleep in a real Eskimo snow-house - an igloo.
Paddle to us, we will make your holiday active and useful!
0.5
1
1.5
2
2.5
3
3.5
4
4.5
5
5.00

(Votes:

1

)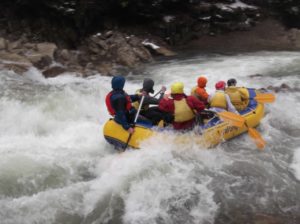 Every year in springtime the Rafting Centre catches high water of the Svicha and Mizunka rivers. It is usually March when the snow in the Carpathian Horhany melts and fills the Mizunski waterfall with turquoise water. In April the water falls again and the Rafting Centre gets rides on the Chorny Cheremosh river.