2-day rafting on the Svicha and Mizunka
0.5
1
1.5
2
2.5
3
3.5
4
4.5
5
5.00

(Votes:

1

)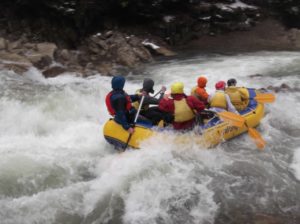 Every year in springtime the Rafting Centre catches high water of the Svicha and Mizunka rivers. It is usually March when the snow in the Carpathian Horhany melts and fills the Mizunski waterfall with turquoise water. In April the water falls again and the Rafting Centre gets rides on the Chorny Cheremosh river.
The Svicha river usually gives the best rapids from Myslivka (it's where we usually settle down) to Vyhoda. It's the spot where we spend the first day getting to work out rafting equipment, meeting peers and instructor teams. We have to get ready to raft on the rough Mizunski waterfall on the second day (difficulty class from 3+ to 4). Beginners are not allowed there due to the high class of difficulty. They have to start with the Svicha river. We recommend using neoprene wetsuits to protect against the cold water.
We usually stay at the hotel "12 Months" in Myslivka. There we cook and have meals. Experience shows Friday is the most convenient time to set off in order to comfortably check in the hotel and have a good sleep.
Duration: Fri 18: 00 - Sun 20:00
Length of the route: up to 40 km / 2 days
Terms of participation: children of 16 and over, a change of clothes
Cost of participation: from 1950 UAH per person including two days of rafting, a wetsuit, support, insurance, guides' fees, 3 meals a day, Hotel-Rafting site-Hotel transfer, shared first-aid kit
Menu: hunter's sausage, bread, ketchup, Cossack kulish, tea, borscht with pampuhy, pasta with Bolognese sauce, banosh with cheese, eggs, buckwheat with meat.
Schedule of the event:
18.00 - departure of the full day group from Lviv
20.30 - arrival in Myslivka, check-in, dinner
23.00 - night sleep
7.00 - departure of the overnight stay group from Lviv
9.30 - arrival of the latter group, breakfast for both groups
10.30 - getting changed, setting out to the start point at the Svicha
11.30 - start of sailing
13.00 - finish, return to the hotel for lunch
14.00 - lunch
15.00 - setting out to conquer the Svicha again
16.00 - start of further sailing down the Svicha
17.30 - finish, getting changed
19.00 - return to the hotel
19.30 - dinner, viewing of the video taken during the day
23.00 - night sleep
7.00 - getting up, breakfast
9.00 - checking out of the hotel, setting out to the Mizunka
10.30 - arrival at the Mizunka, getting the equipment ready
11.30 - start of sailing down the Mizunka
14.00 - lunch
15.00 - further sailing
17.00 - finish, getting changed
18.00 - setting off to Lviv
20.30 - arrival in Lviv
Additional services: Lviv-hotel-Lviv transfer (400), a quest on the route, shashlik, mulled wine, mushroom soup, live music, fireworks. Read more.