Additional services of Rafting Center
0.5
1
1.5
2
2.5
3
3.5
4
4.5
5
5.00

(Votes:

1

)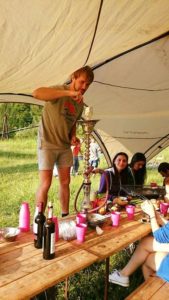 Additional services of the Rafting Center can make the event unforgettable:
organizing a quest while sailing/rafting;
aerial photography of the event with DJI and GoPro 5 quadcopters as well as video editing;
viewing of the video taken or a movie on the big screen in the evening;
5 professional hookahs with a variety of flavors;
lamb roasted on a spit;
simultaneous cooking of shashlik on a 100-skewer grill;
huge tents and folding tables with benches for 100 guests;
a campsite that can be set up anywhere 1 day in advance;
transfer service for any number of tourists to any rafting spot;
a wide range of wetsuits and neoprene socks.
Prices of the additional services are calculated individually depending on the difficulty and complexity of the solution. In addition, the prime cost of the services often changes so it is advised to learn about the prices when booking an event.