Oryava
0.5
1
1.5
2
2.5
3
3.5
4
4.5
5
5.00

(Votes:

1

)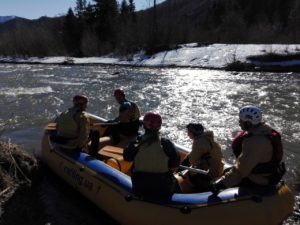 Each year, in late February or early March, we open the rafting season by navigating the Oryava, Opir and Stryi rivers. Since the first exploration in 2017 we have been gathering daredevils among tourists to sail down the deep Oryava river from Korostov.
On this route there are quite a few rapids: dams, waterfalls and rough bends. The cool spring weather and the Opir and Stryi full of water give another portion of impressions. It is possible to go as far as 50 km down the river in a day. In the village of Verhnye Syniowydne we make a stopover to dine and have hot tea from thermos.
We scrupulously track the weather and river water level forecasts in order to organize rafting as comfortably as possible. Due to a high probability that the weather might change, the date of the event may vary.
Duration: 9:00 - 20:00
Length of the route: up to 50 km
Terms of participation: children of 14 and over, a change of clothes
Cost of participation: from 600 UAH per person including support, insurance, guides' fees, hot meals, Skole-Rafting site transfer, shared first-aid kit
Menu: hunter's sausage, bread, ketchup, Cossack kulish, tea.
Additional services: Lviv-Rafting site-Lviv transfer (250), wetsuit (150), shashlik, mulled wine, mushroom soup, live music, fireworks. Read more.