Our team
0.5
1
1.5
2
2.5
3
3.5
4
4.5
5
5.00

(Votes:

1

)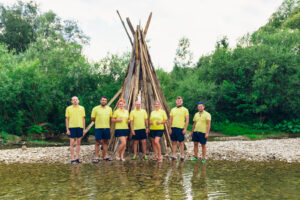 Since 2010, we have been bringing unforgettable rafting experiences to our tourists. We are expanding and diversifying our rafting fleet, experimenting with tastes in the field kitchen, improving team-building games, continuously improving the skills of passing difficult rapids, repeating techniques for providing first aid.
All our guides, without exception, have passed the rafting guide courses provided by the Ukrainian Rafting Federation and the 16-hour first aid course of the Red Cross of Ukraine, as evidenced by international certificates.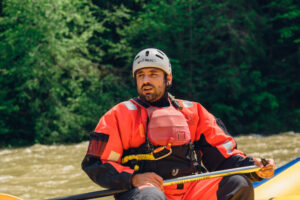 The direct project manager is Yuriy Trehubenko. Since March 2016 he has been the President of the Ukrainian Rafting Federation. He is an interpreter and manager  by education and a rafter and a water level shaman by calling. Since June 2016 has been certified as trip leader and rafting guide class 3 by the International Rafting Federation. He is coordinator of foreign rafting tours to Romania, Georgia and other countries. He also often teaches rafting guides on Cheremosh, Svicha, Mizunka, Opir, Striy.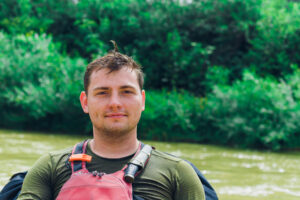 Vitalii Schmidt is a cold-blooded and laconic whitewater professional. The unsurpassed master of folding vatra 6 meters high. He is very active in helping all team members with the often problem of phones drowned during rafting - he repairs them well))). Since October 2020, he has been certified  rafting guide class 3 by the International Rafting Federation. Organizer and trip-leader of rafting events on Opir, Stryi, Dniester, Cheremosh.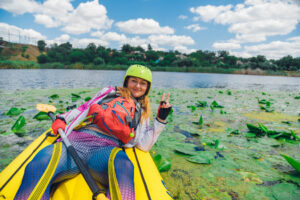 Olya Pukalo is a hot-blooded and verbose professional of whitewater. Heavy artillery of the team in organizing crowded corporate outdoor events. Since October 2020, has been certified as rafting guide class 3 by the International Rafting Federation. Since 2018, she has rafted with the rafting.ua from the Western Bug to Rika and Tisa, has climbed Hoverla and conducted canyoning  on a rope along the Manyavsky waterfall. You can meet her during rafting tours on rivers Opir, Stryi, Cheremosh, Mizunka.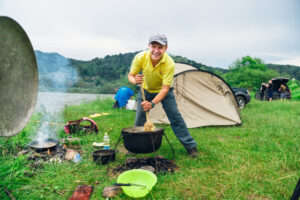 Nazar Dziuban is a hiker, who is in love with whitewater. He has been participating  the team since 2016, he has successfully mastered all types of boats, tents, minibuses and cars. Experience shows that in any emergency, he is the first to run with a throwbag to help). Since October 2020, has been certified as rafting guide class 2 by the International Rafting Federation. The main rafting route is Opir, Stryi, Dniester, Tisa, Cheremosh, Mizunka.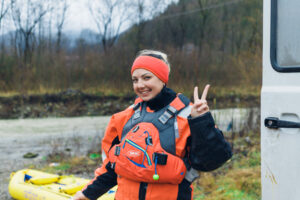 Tanya Hovorko is a photo/video/SMM professional who enhances memories with incredibly emotional bright photos from unexpected angles). If you see our overflowing feed of stories, be sure that Tanya masterfully elucidates our event from water, land and air. Tanya knows the history of all the interesting places around our camp and accompanies the groups as a guide. And she also skillfully waves with a paddle on simple rivers: Dniester, Sluch, Tisa, Stryi!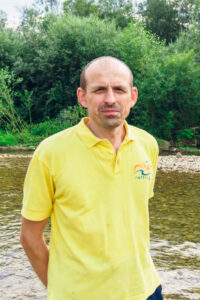 Vitaly Kombel is the head of one of the schools, an adept of whitewater and karate. That is why discipline on a boat under his control is indicative. Despite his low weight, he skillfully uses the moment of force and inertia of the vessel for masterly passing the rapids. He loves sup-boarding very much, so sometimes rapids are passed on the Opir while standing on a kayak. He is also excellent and dexterous in wielding an ax in the camp - he can quickly carve out of wood from a pin for folding tables to a rafter figure! You can meet him at the crowded rafting events.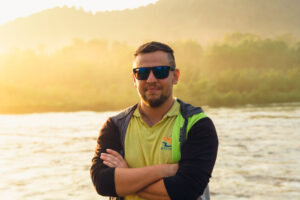 Oleh Pasternak is an ambulance nurse and a kayak guide in his spare from ambulance time. It was Oleg who taught us how to do intravenous injections, connect the systems and install "butterflies". He supports guides in constant combat readiness to provide pre-medical assistance, periodically posing as a drowned person, wounded or injured with anaphylactic shock. That is why sometimes the guides leave the camp with Oleg and the first aid kit towards the bushes))).